Call: 02 9188 1577
Experiencing problems with your phone & Internet?
Sydney's most trusted and reputable telephone technician service. Providing phone line repairs and installations to homes and businesses across Sydney. We are the #1 company for getting the job done right. ACMA registered cablers, experts in the field of voice and data communications. Domestic, commercial, and industrial call outs available for Sydney.
NEED A TELEPHONE TECHNICIAN OUTSIDE OF SYDNEY?
10% Off Your Technician Service Call 
We are giving you a total of 10% off the total price of your next service with us. This is for a limited time so don't wait. To qualify for the 10% discount, you will need to have booked and prepaid for this service before the countdown timer and offer expires. You will need a to enter the coupon code on check out to claim your 10% discount. Please read description below for more detailed instructions.
Get Coupon Code
How to Get Your 10% Discount 
If you need an ACMA registered cabler to attend your premises in Sydney for a fault with your phone, internet or TV cabling then don't pay full price. If you prepay for your service here today you can use the coupon code we will provide you, and on checkout you will receive 10% off your prepaid service call.
What's Covered: This service is for our ACMA registered, internet phone and data technician to come to your home or office and locate and repair a fault. This is a pre-paid service.
What is included in this price: 1-hour labour, call out fee (must be within 40km from our office) Tax, a socket & scotch locks. (if needed) Material other than the socket and scotch locks are not included. In the unlikely event you may need more than a cleaver tech a socket and some scotch locks, we will bill you separately for the material costs.
Download Coupon Code
Checkout: Once you have selected the date and time you want us to be at your premises, and filled out your contact and job details you will be asked to enter your coupon code. Don't forget to select APPLY once you have entered the coupon code.
Cost: This prepaid package is usually valued at $220. With your 10% discount
Total cost: $200 inc gst
BOOK YOUR SERVICE NOW
Once you click on the book now button you will begin the process to book a SECURE A COM technician for a fault you may be experience with you phone or internet service at a 10% discounted price.
BOOK YOUR SERVICE NOW
————————————————————————————————————————————————————————————————————–
VIDEO EXPLANATION 
Are you hearing crackles on your line? Internet slowed to a crawl? Sounds like you have a phone line fault. This is where we shine. We have the best telephone technician in Sydney, and you're just one click away from getting your service working again at the best price going. All our telephone technician are licensed and accredited with the ACMA (Australian Communications and Media Authority)
Looking to have data cables installed in your home or office? We have been in the business of helping families, friends, and colleagues connect through wired data networks for decades. We only use the highest quality parts and components on all our installations and repairs, no matter how big or small the job is, and we will do it at a price that won't break the bank.
We only use quality parts on all our phone line installations, we provide you with written PDF reports which is your warranty on our labour. We can work with you if you are building a new house or office and help you plan to get the best bang for your buck.  We are well equipped for either a single socket installation or multi story building wire and fit out.
We have well trained techs ready to help you with all your home wiring and data networking needs for NBN related technologies, FTTP, FTTN, FTTB, HFC, or Fixed Wireless we have you covered. Would you like your existing phone sockets in your home or office to work with your new NBN service? Give us a buzz, and speak directly to a technical department who can advise you best on how to get what you need.
Our mission is to get your service working again at optimum level, and sometimes dealing with an ISP can be very difficult, especially if they are claiming that the phone or internet fault is your internal wiring or equipment. We provide an online report, with video, photo, and written evidence if we find the fault is in the network and not your home, and this helps our clients get a ISP refund.
Booking online with us is simple as a, b, c. We have a secure online booking system and provide you with your own online portal for your account. You can contact us, share documents and images with us, book, reschedule and cancel appointments, and make safe and secure online payments. Just select the service you require, select an available time and date, and that is it, you are set to go.
You can rest easy in the knowledge that all our telephone, data, and NBN technician are licenced and registered with the ACMA. The Australian Communications & Media Authority is the regulator for the telecommunications industry, we are a member and all our  technician follow the rules and regulations set out in the act.
Pay your invoice fast and safety directly on our website. We have a professionally managed, highly encrypted and extremely secure online payment function for this website. On receiving your invoice, you have 7 days to have it paid. We give you loads of payment options, bank account, PayPal, a payment link for credit card on the invoice, or the secure online payment function here on our site.
DOES YOUR BUILDING HAVE A LIFT? NBN EMERGENCY LIFT PHONE UPGRADE
RELOCATING YOUR NTD OR NBN BOX TO A SUITABLE LOCATION  With NBN ramping up its installation across Australia, we are receiving an increasing amount of angry NBN customers calling up for help with the impractical location NBN contractors are installing...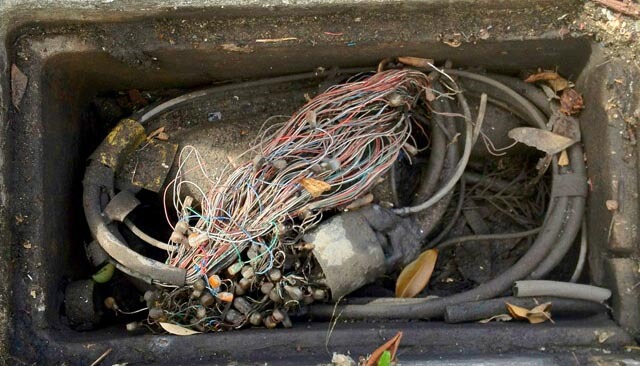 Telstra Complaints "Telstra told me the fault was my internal wiring but it was in the Telstra Network" Over the last two years the number of jobs we have attended for our clients that have turned out to be faults in the Telstra Network is on the rise, and the amount...
Crackle on Home Phone Line in Bangor - Network Issue  ADSL 2+ PHONE LINE REPAIR NETWORK OPTUS BANGOR 24/10/2017 Field Job Description Customer has had crackling on the line for three months. She...
NBN HFC CABLE RUN FOR BEST ROUTER LOCATION NBN - HFC NBN SERVICES  INTERNAL Telstra  Oyster Bay 04/10/2017 Field Job Description This Customer has had NBN out twice as they wanted to install the...
NBN FTTN Slowed by half speed tested directly on copper lead-in NBN - FTTN NBN SERVICES  NETWORK Telstra  Kellyville Ridge 25/09/2017 Field Job Description So we came out today as this customer was...
Temparary NBN Coaxial HFC Lead-In Cable and Conduit Repair  Field Job Description This customer had cut through his communications pipe carrying his Foxtel cable and his Telstra copper line. The copper line was not damaged, but the Foxtel cable...
SEE THE FULL LIST OF REPORTS
                                       Some of the above companies we receive referral work from to help their clients. Note: We have no affiliation with any of these companies.
JUST SOME OF THE SYDNEY SUBURBS WE VISIT
Alexandria – Alfords Point – Allambie Heights – Allawah – Arncliffe – Artarmon – Balmain – Bangor – Banksia – Bankstown – Barangaroo – Barden Ridge – Bellevue Hill –  Beverly Hills – Bexley – Bondi – Bondi Junction – Bonnet Bay – Bonnyrigg – Brighton-Le-Sands – Bronte – Bundeena – Burwood – Cabramatta – Canada Bay – Canterbury – Caringbah – Carlingford – Sydney CBD – Chatswood – Clovelly – Como – Concord – Cronulla – Darlinghurst – Dolls Point – Double Bay – Drummoyne – Dulwich Hill – Earlwood – Eastlakes – Eastwood – Edgecliff – Engadine – Enmore – Epping – Five Dock – Gladesville – Glebe –  Grays Point – Guildford – Gymea – Gymea Bay – Haberfield – Haymarket – Heathcote – Hebersham – Holsworthy – Homebush – Hornsby – Hurstville – Illawong – Jannali – Kareela  Killara – Kings Cross – Kingsgrove – Kirrawee – Kirribilli – Kogarah – Kurnell – La Perouse -Lane Cove – Leichhardt – Lewisham – Lilli Pilli – Lilyfield – Lindfield – Liverpool – Loftus – Manly – Maroubra – Marrickville – Mascot – Matraville – McMahons Point – Menai – Miranda – Moore Park – Moorebank – Mortdale – Mosman – Narrabeen – Neutral Bay – Oatley – Oyster Bay – Paddington – Padstow – Panania – Peakhurst – Penshurst – Petersham – Picnic Point – Point Piper – Port Botany – Potts Hill – Potts Point – Pymble – Pyrmont- Ramsgate – Randwick – Redfern – Regents Park – Regentville – Revesby – Rockdale – The Rocks – Roselands – Royal National Park – Rozelle – Rushcutters Bay – Ryde – Sans Souci – St Peters Stanmore – Strathfield – Surry Hills – Sutherland – Sydenham – Sydney Olympic Park – Sylvania -Tamarama – Tempe – Turramurra – Ultimo- Vaucluse – Wahroonga – Watsons Bay – Wattle Grove – Woollahra – Woolloomooloo – Woolooware – Yarrawarrah – Yowie Bay – Zetland
Registered cabler with the ACMA
Secure a Com are Registered Cabler's with the Australia Communications and Media Authority. We provide a safe and reliable Telecommunication service to your home or office. We hold all the appropriate licences and certifications so you can be assured that you're receiving a highly trained and qualified telephone technician every time.  Our services can help you streamline your computing and telecommunications needs. We are about providing solutions to problems so you can stay connected and focus on running your business. We provide home and business solutions for making the most out of the multitude of technologies that exist to keep us connected and carry us into the future. If it is a home computer network that you are after or a cloud based solution for keeping your files and important data safe, Secure a Com can plan a strategy around your needs and come up with the best solution to help you and your business grow.
Google+