Best Internet Provider Sydney
Navigating the digital landscape in search of the best internet provider in Sydney can often feel like an overwhelming maze, especially if you're relying on Google search results. A significant challenge is that many of these results are influenced by affiliate marketing, skewing ratings more towards the potential commissions than the actual performance and reliability of the Internet Service Providers (ISPs).
As experienced internet technicians who interact with both ISPs and customers on a daily basis, we understand the intricacies of this industry. Our hands-on experience with various ISPs, especially in relation to the National Broadband Network (NBN), puts us in a unique position to offer unbiased and informed advice. Today, in this blog, we are excited to share our insights and reveal the number one ISP choice for both homes and businesses seeking a dependable and efficient connection to the NBN in Sydney.
Introduction to the Best Internet Provider in Sydney
When searching for the best internet provider in Sydney, it's easy to get lost in a sea of biased opinions and affiliate-driven recommendations. We, as seasoned internet technicians, deal with ISPs and customers daily, providing us with a unique, hands-on perspective. Today, we're thrilled to share our top pick for the best ISP in Sydney: Aussie Broadband.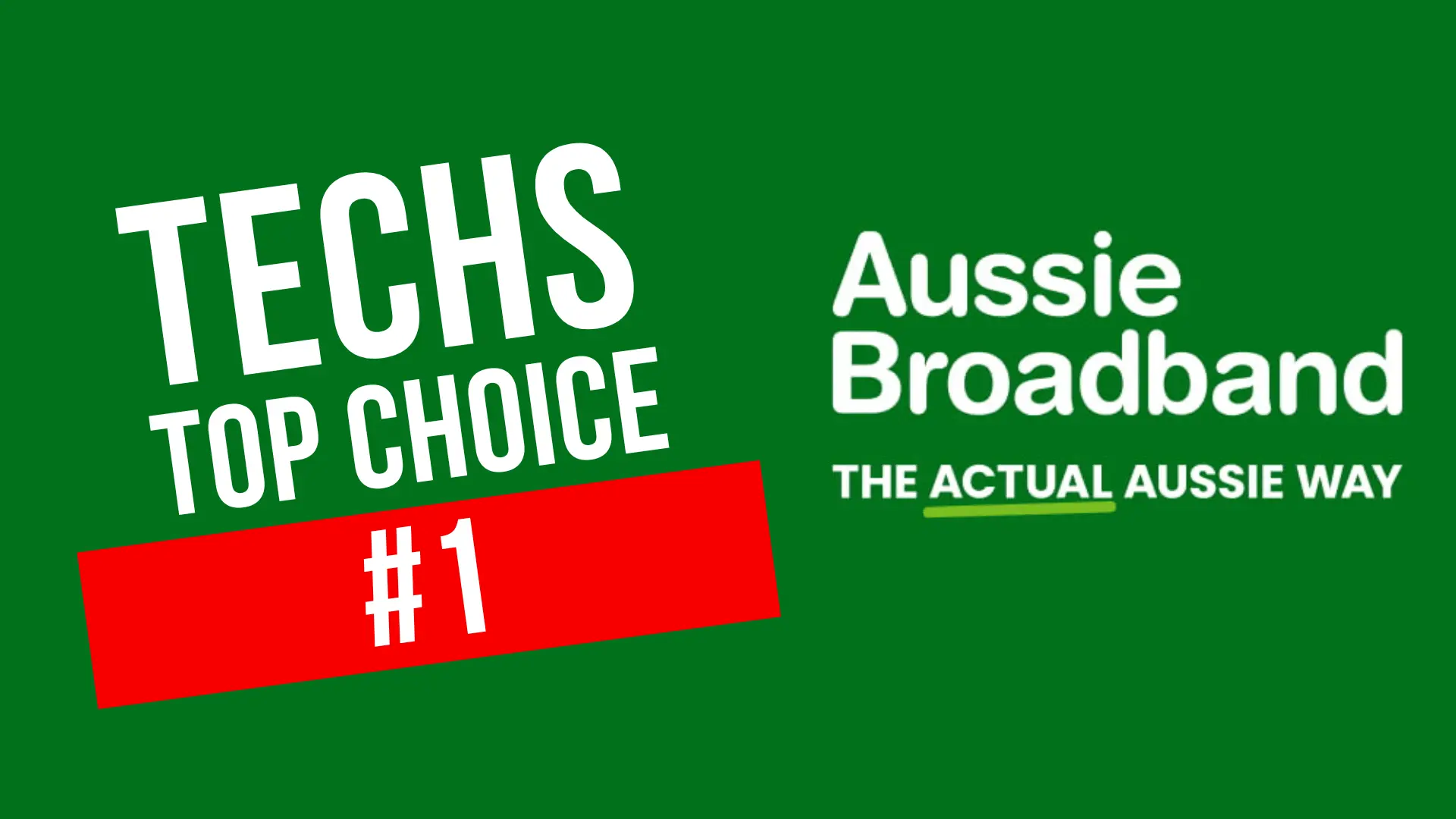 Why Aussie Broadband Tops Our List
Australian Call Centre: One of the standout features of Aussie Broadband is their Australian call centre. This means when you call for support, you get to speak to someone locally. This not only fosters easier communication but also ensures a more relatable and stress-free experience.

Prompt Response Time: They are well-known for their quick response times. When you need assistance, Aussie Broadband ensures that you are not waiting endlessly on the phone, a crucial factor in today's fast-paced world.

Competitive Plans: Aussie Broadband offers a range of plans that are not only competitively priced but also tailored to meet diverse customer needs. Whether you're a light internet user or require a robust plan for business purposes, they have options that cater to all.

Exceptional Network Capacity – POI Strategy:

Understanding POIs (Points of Interconnect):

POIs are critical network exchange points where ISPs connect to the NBN.
They play a vital role in determining the speed and reliability of your internet connection.

Aussie Broadband's Edge:

They have invested in more POIs than most other ISPs.
This means better network control, leading to improved speed and reliability for the end-user.
Aussies Current POI Allocation
New South Wales:

 41

Victoria:

30

Queensland:

22

Western Australia:

14

South Australia:

9

Tasmania:

2

ACT:

2

Northern Territory:

 1
Customer-Centric Approach: Aussie Broadband doesn't just want customers; they want satisfied, loyal users. Their approach is about going above and beyond to ensure customer satisfaction, a key factor in their high retention rates.
The Techs Top Choice
Our daily interactions and direct experiences with ISPs have led us to confidently recommend Aussie Broadband as the top internet provider in Sydney. Their commitment to local customer service, swift support, excellent plans, superior POI strategy, and a customer-first philosophy truly set them apart in the competitive ISP landscape.
Aussie Broadband NBN Plans
Because Aussie Broadband is our #1 pick for the best internet provider in Sydney we can put our credibility on the line, that's how much we think they outrank the other ISPs in Sydney.
Decoding ISP Customer Satisfaction
In an era where the Internet has become an integral part of our lives, choosing the right Internet Service Provider (ISP) can be a daunting task. To aid in this decision-making process, we've delved deep into the world of online reviews, specifically focusing on Google reviews, and do the legwork to sift through the myriad of customer opinions. Additionally, we've incorporated feedback from our own clients to provide a well-rounded perspective.
With the National Broadband Network (NBN) acting as the wholesale provider in Australia, ISPs have transitioned into retail sellers, reshaping the landscape of internet services. This shift means that no ISP owns the network; they're all reselling the NBN's product. In this context, there are three main pillars to consider when choosing an ISP: 1) Customer Service, 2) Price, and 3) Point of Interconnect (POI) and Average Speed. These factors have become crucial in differentiating ISPs in today's market, where the technical aspects of internet delivery are largely uniform across providers.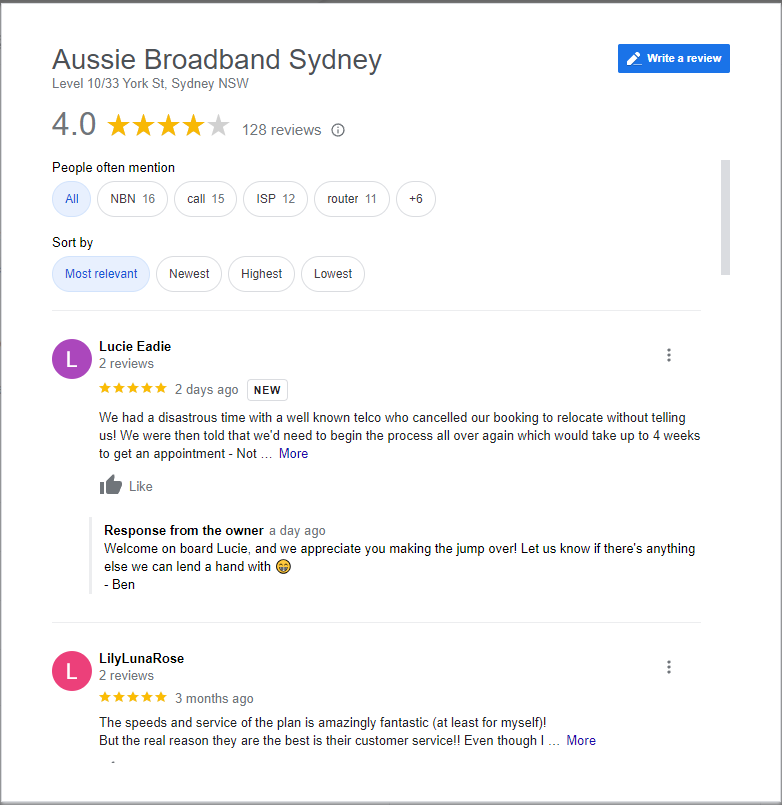 Aussie Broadband: A Beacon of Customer Satisfaction
The quality of internet service can make or break our daily experiences. Amidst the myriad of choices, Aussie Broadband has emerged as a standout provider, not just for its high-speed internet but also for its exceptional customer service, as evidenced by a stream of positive customer reviews.
Exceptional Customer Support and Service
Customers like Lucie Eadie and Lily have praised Aussie Broadband for its customer support. Lucie's transition to Aussie Broadband was spurred by a disappointing experience with another provider, but she found solace in the seamless service and proactive support offered by Aussie. Similarly, Lily emphasised not only the impressive speeds and reliability of the service but also hailed customer service as a key differentiator.
Technical Savvy and Efficient Problem Resolution
The technical proficiency of Aussie Broadband's support staff has been a recurring theme in customer feedback. Petar Sabados, a local guide with extensive review experience, complimented the company for its tech-savvy approach. Petar's experiences with setting up advanced equipment like the Nest router and resolving connectivity issues reflect the company's competence in handling technical challenges swiftly.
Prompt and Empathetic Assistance
Aussie Broadband's promptness in addressing customer issues is another aspect that resonates with their users. Andrew Cotton experienced comprehensive support during an NBN fibre changeover, reflecting the company's commitment to providing empathetic and immediate assistance in resolving unforeseen difficulties.
Going the Extra Mile
Sarah Robinson noted how the customer service team went out of their way to assist when her devices stopped picking up WiFi post an NBN upgrade. This level of dedication is a testament to Aussie Broadband's commitment to exceeding customer expectations.
Smooth Onboarding and Transition
New customers like Tanvir Hossain have found the onboarding process to be smooth and hassle-free, a crucial aspect for any user switching providers. Kym Foura's experience with resolving a speed issue efficiently also underscores the company's ability to handle concerns effectively, ensuring a smooth customer journey.
Consistently Reliable and Friendly Interactions
Donna Hughes highlighted the consistently short wait times and the professional yet friendly interactions with the staff. Similarly, 528A91 appreciated the simplicity and efficiency of moving to Aussie Broadband, which included excellent phone support for existing hardware.
Recognition of Loyal Customers
Long-term customers like Harry and Paula Wilson have also expressed their satisfaction with Aussie Broadband. Their testimonials about seamless upgrades and moves, coupled with outstanding assistance in modem connections, paint a picture of a company that values and nurtures its long-term customer relationships.
In Summary
Aussie Broadband emerges not just as a provider of high-quality internet services but as a brand synonymous with customer satisfaction. The overwhelmingly positive feedback from a diverse range of customers highlights the company's commitment to providing exceptional service, technical expertise, and a customer-centric approach. In a sector where service quality can fluctuate, Aussie Broadband stands out as a beacon of customer satisfaction.
LEADING IN ENVIRONMENTAL RESPONSIBILITY
Aussie Broadband emerges as a front-runner in the environmental responsibility category, setting a new benchmark for sustainability in the telecommunications industry. This commitment is evident through several impactful initiatives that not only reduce the company's carbon footprint but also support broader environmental efforts.
Carbon Neutral Commitment
A key aspect of Aussie Broadband's environmental strategy is its robust carbon-neutral program. By partnering with Carbon Neutral, the company has conducted a comprehensive assessment of its carbon footprint, resulting from various operational activities. In response to this, Aussie Broadband has purchased an equivalent amount of carbon credits, specifically contributing to the Australian Biodiverse Reforestation Carbon Offsets in the Yarra Yarra biodiversity corridor. This initiative not only offsets the company's emissions but also aids in reforesting and preserving native Australian species.
Sustainable Procurement Practices
Aussie Broadband's adoption of Givvable, a platform for tracking sustainable procurement credentials, signifies its dedication to environmentally responsible practices. This move has led to a substantial increase in the number of its suppliers with Environmental, Social, and Governance (ESG) certifications. By setting high sustainability standards for its supply chain, the company ensures that its commitment to the environment extends beyond its direct operations.
Renewable Energy Investments
The company's investment in renewable energy, particularly the installation of a 212kW solar array at their Dandenong South office, underscores their dedication to reducing reliance on non-renewable energy sources. This initiative is a part of Aussie Broadband's broader strategy to incorporate renewable energy solutions across their operations, further diminishing their environmental impact.
Support for Environmental Charities
Aussie Broadband's environmental ethos is also reflected in its support for various environmental charities and organizations. Partnerships with groups like CERES, the Bay Islands Conservation Group, the River Conservation Society, and the Mimal Land Management Aboriginal Corporation demonstrate the company's commitment to environmental education, conservation, and sustainable practices. These collaborations help preserve Australia's unique biodiversity and support indigenous communities in their efforts to manage and protect their lands using traditional practices.
Through these comprehensive and thoughtful initiatives, Aussie Broadband not only exemplifies corporate responsibility in environmental sustainability but also positions itself as a leader in this crucial aspect among ISPs. Their efforts go beyond mere compliance, showcasing a deep-rooted commitment to creating a positive impact on the planet and its ecosystems.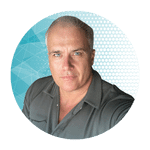 Jason Kearney
Head Internet Technician
Jason Kearney is the Head Technician at SECURE A COM, with qualifications spanning NBN, ADSL, phone, and data cabling. Starting as an electrician, Jason quickly delved into the telecommunications sector, leading crucial projects like the rehabilitation of the Telstra network. With credentials in both managerial and technical aspects, he now specialises in phone line and NBN fault location and repair, serving both homes and businesses with effective and personalised telecommunications solutions