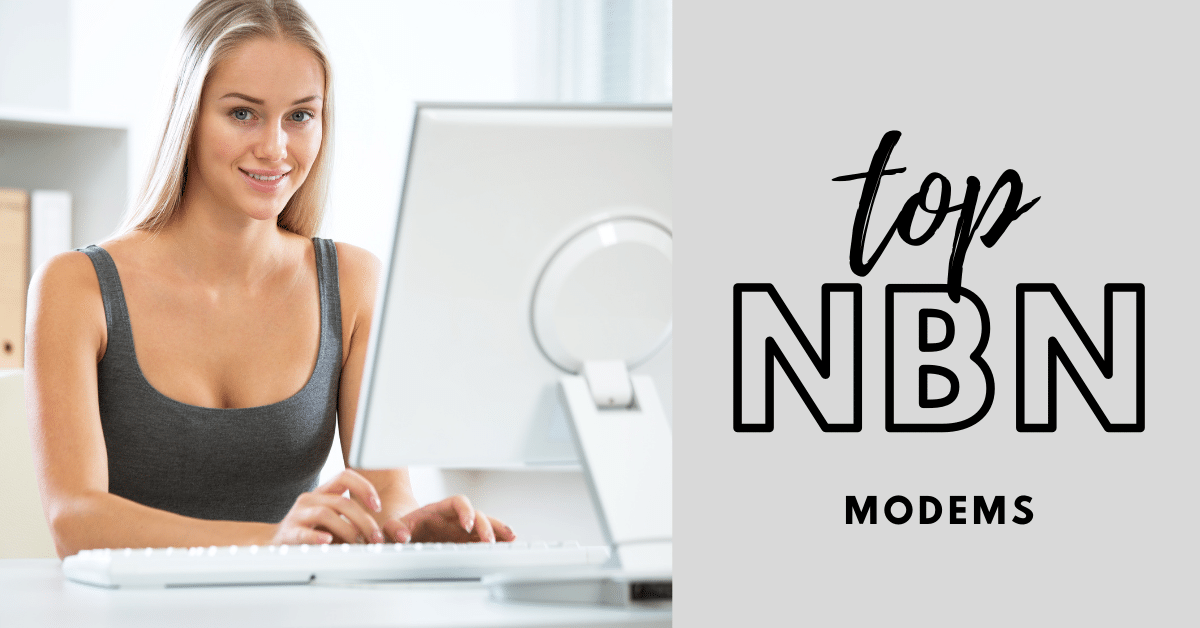 What Is The Best Modem For NBN?
Today I'm sharing some knowledge about the types of modem/routers that are best suited for your NBN services. I have over 30 years of experience in the Telecommunions industry and work daily to solve internet issues for home and business owners. The ISP supplied modems/routers can be fine for most people. But, if you're like me and want the best performance from your NBN internet service, then upgrading from your cheap ISP's modem/router to something with a more grunt then this is the post for you.
I install lots of different brands of modem/routers for clients and some perform better than others. Today I have found a handful of modem routers for all differing budgets. I have categorised them according to the NBN specific technology so if you are unsure what technology you have click here and type in your address the look for "Presises technology.
I have also found the best online prices for you and linked to them, so we have taken out all the guesswork for you.
Now, getting a modem router from your ISP is not always the worst idea. However, the rule of thumb is that if you have a modem from your ISP, the performance of the connection may be OK or very good. All the features after that are going to be extremely poor.
WI-fi performance on an ISP provided modem has been known to be subpar. I spoke to an ISP rep who said that their modems in-home Wi-Fi is extremely bad, so a router is highly recommended. For the best result, you would want your modem and Wi-Fi router to be separate devices, giving you more control. And in case of a problem, you don't have to swap out that single combo unit. You just swap one or the other out. So I have compiled a few recommendations that should cover most situations. Let's start at the entry level.
FTTN – Fibre to the node
FTTC – Fibre to the curb
FTTB – Fibre to the building
FTTP – Fibre to the premises
HFC – Hybrid fibre coaxail
TP-LINK AC1200 Wireless VDSL/ADSL Modem Router, NBN Ready
NBN TECHNOLOGIES: FTTC, HFC, FTTP, FTTN, FTTB, FIXED WIRELESS
The TP-LINK AC1200 Wireless Dual Band Gigabit Router can deliver blisteringly fast speeds of up to 867Mbps throughout your house, and it can handle anything that you throw at it. The device is very easy to use, delivering maximum performance with its two antennas for high-speed connections. You will always experience flawless coverage in every corner of your wireless network with this router as it provides stability through beamforming technology and versatile connectivity thanks to VDSL2/ADSL2+/ADSL2/ADSL standards. This router also connects cable, fibre, or 3G LTE with ease so you don't have to worry about lag time when logging in from another location on your home WiFi connection!
TP-LINK AC1200 Wireless is an entry-level modem with wireless capabilities and has gigabit ports. It's dual-band, so both 2.4 gigahertz and 5 gigahertz WI-FI with moderate speeds. This is a bargain price so if you are on a budget, you'll be very happy.
 
ASUS RT-AC68U, AC1900 Dual Band Gigabit WiFi Router
NBN TECHNOLOGIES: FTTC,  FTTP,  HFC,  FIXED WIRELESS. 
Boost your WiFi to 1900Mbps with the ASUS RT-AC68U Dual Band Router. With fast and responsive performance, you'll be able to game lag-free whether in the bedroom or basement. Get triple-strength security from AiProtection with Trend MicroTM, including robust parental controls and privacy protection with VPN server access so that you can travel worry-free knowing your home network is secure as well! Wireless AC Gigabit speed is 3x faster than before for a smooth streaming experience too. It's even easy to share your USB storage devices or access photos and videos using ASUS AiCloud app on laptops, smartphones, tablets anywhere across any internet connection so they're never far away
The ASUS RT-AC68U AC1900 Dual-Band Wi-Fi Gaming Router is the Ultimate in high-speed Internet performance. Built with gaming, streaming and mobile devices in mind, this networking device comes equipped with a state of the art 1GHz dual-core processor that delivers fast and efficient WiFi to any environment. With a total bandwidth 6673Mbps thanks to 802.11ac wireless technology, your data will be transferred up to 33% faster than traditional N routers! And it doesn't stop there: it features Broadcom® TurboQAM™ technology capable of delivering 600 Mbps connectivity using both 2.4 GHz and 5 Ghz bands for an unparalleled signal coverage performance; making you effectively triple the battery life if you're streaming on a
 
NETGEAR "Nighthawk" AC2300 Smart WiFi Router 
NBN TECHNOLOGIES: FTTC,  FTTP,  HFC,  FIXED WIRELESS. 
Offering advanced AC wireless performance and all the features you'll need to create a secure, high-performance wi-fi network in your home, our newest wifi router is ideal for creating an A+ access point. It's up to 75% faster than previous Nighthawk generations with Quad-Stream Wave 2 WiFi plus MU-MIMO data streaming technology. Connect all of your devices quickly and without interruption by using powerful external antennas for extended range coverage. Manage your family's devices remotely using the free mywifiext app or monitor things from afar on another computer with included remote management software (WPS). For stronger connectivity across greater distances and walls in homes that are more challenging environments, Beamforming+ boosts speed while minimizing dead zones
The Nighthawk AC2300 Smart Wi-Fi Router is the best 802.11ac router for extreme performance, speed and coverage. Enjoy a blazing-fast, lag-free Wi-Fi experience for gaming, video streaming or surfing. The high-powered antennas provide stronger Wi-Fi signals over a larger area to improve wireless connections throughout your home. MU-MIMO technology allows you to connect multiple devices at once without slowing down the network. The router comes with four Gigabit Ethernet ports an ultrafast USB 3.1 port and a USB 2.0 port.
NetComm NF18ACV AC1600 Modem Router with Voice
NBN TECHNOLOGIES: FTTC,  FTTP,  FTTN,  FTTB,  HFC,  FIXED WIRELESS.
NetComm NF18ACV AC1600 Modem Router with Voice is NBN ready and perfect for the high-speed networks of tomorrow, such as UFB. Offering 1.6Gbps WiFi speeds to make sure that you can connect all your devices without sacrificing performance in any way, NetComm NF18ACV VDSL2/ADSL2+ Wireless AC1600 Modem Router has 4x Gigabit Ethernet 10/100/1000 LAN ports while still maintaining a compact form factor enabling it to be used anywhere at home or business. NetComm NF18ACV VDSL2/ADSL2+ Wireless AC1600 Modem Router fully manages both 2.4GHz and 5GHz bands which ensures device connection speeds stay sharp no matter
Note: The NetComm NF18ACV AC1600. Netcomm has been around for a while and if you are on a budget and need a landline, this one has VoIP, and has a decent life span and has been confirmed to work with most ISP providers.
NBN TECHNOLOGIES: FTTC,  FTTP,  HFC,  FIXED WIRELESS. 
Built-in WTFast game accelerator and Adaptive QoS deliver lag-free online gaming and smooth 4K UHD streaming. ASUS AC2900 is a high-performance Wi-Fi router with dual-band technology and the latest 802.11ac 4X4 MU-MIMO technology, delivering up to 1.8Gbps at 5GHz for ultrafast wireless speeds. Powered by a dual-core processor, it has four times the processing power of its predecessor for faster and smoother network performance. AiRadar intelligently strengthens connections to wireless devices by using beamforming technology, helping provide 150% greater coverage than standard routers.
For uncompromising gamers, we've developed the RT-AC86U gaming router – it's optimized for low latency online gaming and streaming in 4K UHD quality. With up to 1733Mbps wireless speeds on both 2.4GHz and 5GHz frequency bands, an adaptive QoS system that ensures lag-free play even when your bandwidth is limited, built-in WTFast game acceleration, and MU-MIMO support with data prioritization logic for blazing multi-device performance, you'll never have to worry about getting the most out of your next-level gaming experience!
 
AC2600 MU-MIMO Wi-Fi Router
NBN TECHNOLOGIES: FTTC,  FTTP,  HFC,  FIXED WIRELESS. 
The AC2600 MU-MIMO Wi-Fi Router is the ultimate high-performance wireless router, offering extreme dual-band speeds of 1733 Mbps on 5 GHz and 800 Mbps on 2.4 GHz with 4 antennas for wireless networks amplified, Beamforming technology for a focused signal to connected devices and Smart Connect Technology that automatically selects the fastest available band for all your Wi-Fi enabled devices. The AC2600 MU-MIMO Wi-Fi Router features an easy setup process via a user-friendly touchscreen interface or mobile app for quick network access.
SmartConnect ensures that all your Wi-Fi devices are using the best available band and channel for low latency, high throughput connection. With a 2 year warranty included with purchase, you can always have peace of mind knowing this router will provide consistent coverage throughout your home as well as protection from other household appliances or mobile phones which may cause interference. Built to last, enjoy the reliability of Qualcomm® Networking technology powering this AC2600 MU-MIMO Wi-Fi Router.
The most versatile router on the market today! Get more range and connections while looking good with four adjustable antennas around your home and beamforming that focuses Wi-Fi signals where they need to be in order to boost performance.
Billion BIPAC 8900AX-2400 Tri-Band
NBN TECHNOLOGIES: FTTC,  FTTP,  FTTN,  FTTB,  HFC,  FIXED WIRELESS. 
BIPAC has merged cutting-edge wireless technology with an advanced VDSL2 router to bring you the ultimate in-home and office security. The newest UMMI MO chipset supports Wave 2 802.11ac wireless speeds of up to 1800Mbps and provides coverage for dead zones that other Wi-Fi networks have left alone until now! With these high power antennas, this new wave will penetrate walls more easily than before – ensuring a stronger signal indoors as well as outdoors. Upgrading your internet is easy when BI PAC MU-MiMO can make it happen in minutes, allowing you the ability to access high bandwidth DSL like never before! When combined with 4×4 antennae's interference control helps eliminate obstacles for better connections, it's World-class.
The BiPAC 8900AX-2400, Wireless-AC 2400Mbps LTE VDSL2/ADSL2+ VPN Firewall Router is the prime choice for homes with delivery executives and mobile workers that travel on business. One of its most noteworthy features is the 1 Gigabit Ethernet port which allows users to connect a desktop client via the wired network at Gigabit speed. This powerful tri-band router has been designed for households that require high bandwidth Wi-Fi connectivity, as it provides incredible speeds of up to 600 Mbps in 2.4GHz frequency and 1800 Mbps on 5GHz frequency which allows users to stay connected to one another–or to watch movies from NAS in the home–without any lag time or delays.
This is a great pick in my books. If your looking for a solid workhorse to just keep ticking over, then this is the unit for you.
Remember to check what connection you have before you buy a modem, but mainly check if the modem supports it, because modems like this can support a whole bunch of connections. So my recommendation for fibre to the node is this modem right here. You're going to get the best speed for my experience this modem has the highest sync I have ever seen, testing it at multiple homes that I've been able to go to. It has about ten per cent better than most and sometimes even thirty per cent, which may not seem like much, but every megabyte counts.
What To Avoid!!
Now here is who to avoid. I do not recommend the ASUS DSL-AC52U to use specifically because the chipset seems to have issues with the Australian NBN Fibre to the node connections. I have confirmed this with an ISP representative. Now don't get me wrong, it still works, but you won't be getting the speeds as advertised, so only get it if you have fibre to the premises because it works well for that connection.
After all, it's fast, but something to do with the sync rates and the modem chipset it uses just lets you down when it comes to FTTN. Now, seeing results like this, many people may be thinking they're getting terrible performance because they're using a bad modem. The rest of the modems mentioned will sync very well too. So don't think any of those models will be any worse than potentially this one.
Conclusion
Now, this list isn't exhaustive by any means, but I think we have narrowed it down to some good options for those who want to go out and buy their modem and router combo. I have more on my list, but I couldn't find a local retailer that stocks them, so, therefore, it won't be on my list. Now, as always, you can go get a modem from your ISP, pay the rent or get locked into a two-year contract and buy something like a Google wi-fi mesh router.
I hope in any case, this list has been a little bit helpful to maybe save you some money. And remember the biggest thing with NBN. Is that you can swap providers by just calling them or signing up to a new one anytime. Just make sure you cancel the old ISP. It usually takes between 15 minutes to an hour to swap to a new connection. You could probably bounce around every month to check which provider gives you the best speed.
So I will end this here. Thanks for checking out this post. I hope this has shed a little light on this subject. Till next time.
Latest News and Posts
We enjoy bringing you the latest news, information tips, and tricks.
Wi-Fi For CaravansAustralia is a wonderful country for Motorhome and RV cruising. It's the best in the world, so keep all your loved ones updated on where you are with an update through social media or even text messaging them every day while out exploring this great...
The #1 phone line repair and ACMA accredited telephone technician service in Sydney. If you have any questions regarding our services please don't hesitate to call.
Phone: [telnumlink]02 9188 1577[/telnumlink]
© 2020 SECURE A COM  Pty Ltd.