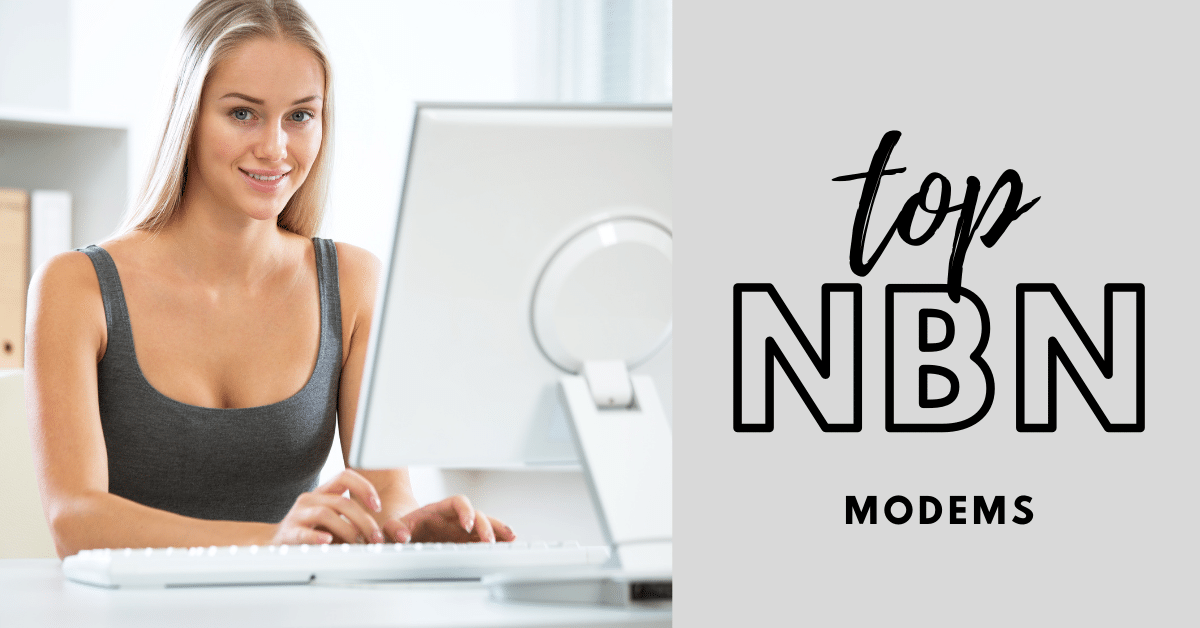 What Is The Best Modem For NBN?
Today we're going to be talking about NBN modems and choosing the right NBN modem router combo for your situation. There are many modems out there in Australia. It's not like we have one modem and router combo that every household has, apart from HFC. This isn't a perfect world and we shouldn't expect it to be.
In saying that. It means that there are so many different user cases, options and performance expectations from the users that allow these differences. I also want to point out that if you are a power user, you probably don't have the stock standard ISP provided modem anyway. You may have gone out and bought a Netgear Nightwalk for example, which seems to be the most popular one out there, but it's a premium price of three hundred plus Australian dollars.
In any case, this blog post is for those new to the NBN who are trying to decide and learn what they need to get the best out of their connection without going overboard on prices and effort because spending more doesn't always get you more. If you are only paying $50 a month for an NBN service then why would you go out and buy a $300 modem, when an $80 modem will do the job very, very well.
I have researched this topic for you, and I have compiled the best of the best from sites like Whirlpool. So apart from some recommendations, I also have two NBN compatible modem routers here with me that I have tested and I will let you know, which one is my top recommendation and which one you should never buy
Now, getting a modem router from your ISP is not always the worst idea. However, the rule of thumb is that if you have a modem from your ISP, the performance of the connection may be OK or very good. All the features after that are going to be extremely poor.
WI-fi performance on an ISP provided modem has been known to be subpar. I spoke to an ISP rep who said that their modems in-home Wi-Fi is extremely bad, so a router is highly recommended. For the best result, you would want your modem and Wi-Fi router to be separate devices, giving you more control. And in case of a problem, you don't have to swap out that single combo unit. You just swap one or the other out. So I have compiled a few recommendations that should cover most situations. Let's start at the entry-level.
Linksys AC750 Dual-Band ADSL VDSL Modem Router X6200
The Linksys X 6200 wireless AC 750 is priced at $99 + FREE Delivery and is an entry-level modem with wireless capabilities and has gigabit ports. It's dual-band, so both 2.4 gigahertz and 5 gigahertz WI-FI with moderate speeds. This is a bargain price so if you are on a budget, you'll be very happy. You can even plug in a USB drive to share files directly on your network, but there are no telephone services.
Fritz!Box 7490 DB AC1300 ADSL2+VDSL Modem + VOIP 
Next up is the Fritzbox 7490 wireless. The Fritze is an expensive piece of hardware which provides telephony connectivity. But at a price of around $457.75 + $11.08 Delivery on average and with also average Wi-Fi performance, it's hard to justify it unless you need a landline service. In saying that, this modem performs very well. The extras include two USB-3 ports, so it has a much faster transfer rate if you plug in a hard drive and you can also plug in a USB based printer. It also has 4-gigabit ports. So you'll have top speed when transferring files within your network. Remember, most Internet speeds will never reach gigabit on the land, so it's good to have a bit of headroom if you're transferring files.
Billion BIPAC 8900AX-2400 Tri-Band
The Billion 8900 AX 2400 wireless is $388 & FREE Delivery and you may be wondering why it's so expensive? This is made for the business user in mind. Great modem connectivity, solid WI-FI with great speeds and a fail-over to a 4G connection, so when your NBN drops out you can remain connected to the internet. Well, you do need to buy a USB 4G modem that you plug into the USB ports. It is supported. It's not a budget option, but with the way the NBN is these days, it might save some frustrations. And really, is there a price you can put on frustration.
Netgear Nighthawk, D7800 wireless AC2600 modem
Next is the Netgear Nighthawk, D7800 wireless AC2600 modem. Now the nighthawk is a gamers dream modem. It looks super cool and it's packed with a whole bunch of performance too, with a dual CPU. It can handle bigger hard drives and faster connection than USB three at this stage and high spec wi-fi, I mean, at which point is this not just a small PC? The price you're looking at $431+ $9.74 Delivery.
NetComm NF18ACV AC1600 Modem Router with Voice,
Next one up is the NetComm NF18ACV AC1600. Netcomm has been around for a while and if you are on a budget and need a landline, this one has VoIP, and has a decent life span and has been confirmed to work with most ISP providers. Starting at $145 + FREE Delivery it's a good buy better than renting a modem and buying a router.
DLINK TAIPAN AC3200 Ultra Wi-Fi Tri-Band Modem Router
Next on my list is the TP-Link TAIPAN – AC3200 Ultra Wi-Fi Modem Router. If money is not a problem and you just don't care, you want the best of the best. This is it. You get everything a great modem router can offer. This thing just works. What else can I say? For $379 + FREE Delivery it's a no brainer!!
TP-Link Archer A9 AC1900 Dual-Band Gigabit Router
Our Top Pick For NBN FTTN And Best For Price
So finally we get to my recommendation for those who have fibre to the node, fibre to the curb, fibre to the premises, also known as fibre to the home and even ADSL+. Remember, HFC modems are only ever provided by NBN Co and they stay at the premises. The TP-link AC 1900 Wireless is my pick for a couple of reasons. First off it has great software, including an app for your mobile device.
I have confirmed it works with all major NBN providers because yes, that is a thing. Some modems don't play well. I will talk about this in a moment, actually, apart from a few standard features that give you great control of your network, it also has its own VPN service.
You can access your home services as if you were a local when you are travelling remotely. It also has one of the best chipsets for getting the most out of your fibre to the node connection. This TP-Link modem router has 4-gigabit slots, 3 USB3 slots and  5G Wi-Fi and its very fast, and it only costs $145.58 + FREE Delivery Yes, the price might seem like a lot, but if you want to make the most out of the fibre to the node connection, this is the modem for you. If you are using it for other purposes, like fibre to the home, fibre to the premises, you might get away with a different modem. But this one can also go with those connections.
Remember to check what connection you have before you buy a modem, but mainly check if the modem supports it, because modems like this can support a whole bunch of connections. So my recommendation for fibre to the node is this modem right here. You're going to get the best speed for my experience this modem has the highest sync I have ever seen, testing it at multiple homes that I've been able to go to. It has about ten per cent better than most and sometimes even thirty per cent, which may not seem like much, but every megabyte counts.
What To Avoid!!
Now here is who to avoid. I do not recommend the ASUS DSL-AC52U to use specifically because the chipset seems to have issues with the Australian NBN Fibre to the node connections. I have confirmed this with an ISP representative. Now don't get me wrong, it still works, but you won't be getting the speeds as advertised, so only get it if you have fibre to the premises because it works well for that connection.
After all, it's fast, but something to do with the sync rates and the modem chipset it uses just lets you down when it comes to FTTN. Now, seeing results like this, many people may be thinking they're getting terrible performance because they're using a bad modem. The rest of the modems mentioned will sync very well too. So don't think any of those models will be any worse than potentially this one.
Conclusion
Now, this list isn't exhaustive by any means, but I think we have narrowed it down to some good options for those who want to go out and buy their modem and router combo. I have more on my list, but I couldn't find a local retailer that stocks them, so, therefore, it won't be on my list. Now, as always, you can go get a modem from your ISP, pay the rent or get locked into a two-year contract and buy something like a Google wi-fi mesh router.
I hope in any case, this list has been a little bit helpful to maybe save you some money. And remember the biggest thing with NBN. Is that you can swap providers by just calling them or signing up to a new one anytime. Just make sure you cancel the old ISP. It usually takes between 15 minutes to an hour to swap to a new connection. You could probably bounce around every month to check which provider gives you the best speed.
So I will end this here. Thanks for checking out this post. I hope this has shed a little light on this subject. Till next time.
Latest News and Posts
We enjoy bringing you the latest news, information tips, and tricks.
What is a VPN and How Does it Work?You probably heard of a VPN before, it's even possible you've used one, but do you know what it does? A VPN stands for virtual private network, which means it gives you privacy online. Originally, VPN's were only used in business...
The #1 phone line repair and ACMA accredited telephone technician service in Sydney. If you have any questions regarding our services please don't hesitate to call.
Phone: 02 9188 1577
© 2020 SECURE A COM  Pty Ltd.