MDF Jumpering Services In Sydney. We connect you to NBN
We offer specialised MDF Jumpering services in Sydney, making your transition into a new home, office, or commercial space as smooth as possible. Our certified technicians expertly connect your internal cabling to the NBN network, ensuring fast and reliable internet connectivity. Whether you're moving into a residential unit, a bustling office block, or a complex industrial site, we have you covered.
Why MDF Jumpering May Be Required
Sometimes, moving into a new building doesn't mean an automatic NBN connection. Unrecorded cable information, mismatched multi-paired lead-in cables to an IDF, or street-level cable upgrades can complicate matters. In new constructions, each service typically requires an MDF jumpering connection.
Jason did an amazing job troubleshooting my home internet, efficient and professional. If you're having any internet issues, then I highly recommend
Fantastic Service. Quick and easy job well done
Tamara Livingstone
31 May 2023
Amazing experience with Jason. Honest and reliable couldn't have asked for a better person to come out and help us. Highly recommend. Thanks again Jason and the team at secure a com .
Tom Hargreaves
12 March 2023
Punctual, considerate, and thorough in identifying problems in my existing home networks and providing solutions.
Guy Ingleby
21 February 2023
Great service by Jason. Up and running and he was prompt and on time. Thanks Secure A Com.
Benjamin Johns
21 February 2023
Perfect service! Jason was very professional and efficient. Would highly recommend their company for your electrical needs.
Luci Torres
5 January 2023
The man from Secure a com was friendly and efficient. The job was to extend the lead in cord for the NBN box so that it could go to the upstairs flat. He was on time and very proffesional and making the appointment was easy. Securacom came out the next day after I phoned them so no wait time. Excellent service.
Residential & Business MDF Jumpering
Residential MDF Jumpering
We specialise in residential MDF Jumpering across Sydney, ensuring your home's NBN connection runs seamlessly from the Main Distribution Frame to your specific unit.
Commercial MDF Jumpering
We offer expert NBN connection services for commercial spaces in Sydney, linking the Main Distribution Frame to your office's internal coms network for reliable connectivity.
If you're moving into a new flat or setting up shop in a multi-tenant building, you might hear about the need for MDF Jumpering. But what does that mean?
MDF stands for Main Distribution Frame, a central point in a building where all the NBN internet connections are first terminated. The MDF has two main sections: the network side, commonly referred to as the 'A' side, and the customer side, known as the 'B' side. Your NBN service provider will connect your new internet service to the 'A' side of the MDF. However, that's often where their responsibility ends.
To complete the connection and get your NBN internet service up and running a jumper wire must be run between the 'A' side and your specific unit's termination point on the 'B' side. This process is what's referred to as MDF Jumpering. It bridges the gap between the building's main connection point and your individual unit, enabling you to access your NBN internet service.
This step is crucial, and if overlooked, you'll find that your NBN internet isn't functioning even though you've received notification that your line is 'ready'. MDF Jumpering is the missing link that completes the circuit from the NBN node to the socket inside your unit, shop, or office. It's not just a technicality; it's a necessity.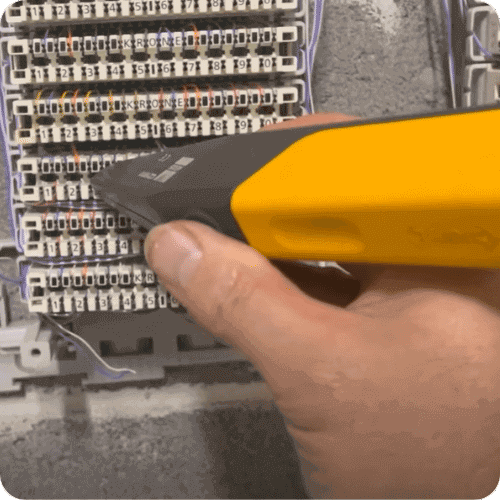 Different Kinds Of MDF Jumpering
Unit & Apartment MDF Jumpering
For residents of unit blocks and apartment buildings, establishing an NBN connection is typically straightforward. Recognising the uncomplicated nature of MDF jumpering in these residential settings, we've designed a specialised service package to expedite the task. This tailored offering ensures a swift, reliable connection to the NBN, allowing you to get online faster and with minimal fuss. Keep reading to delve deeper into this service.
Videos: Showing MDF Jumpering In The Field
MDF Jumpering for Offices
Connecting an office to the NBN is generally straightforward, particularly if the office is in a small building. Our MDF jumpering service in Sydney is designed to provide a quick and hassle-free setup, ensuring your business gets connected quickly.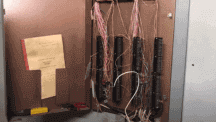 MDF Jumpering For Residential Complexes
Navigating NBN setups in large residential complexes, such as retirement villages or modern apartment complexes, can be challenging. Despite this, our MDF connection service in Sydney is committed to ensuring you're always connected. Check out this video.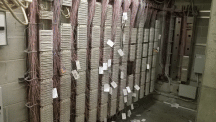 MDF Jumpering For Shopping Centers
Connecting your shop to NBN in a shopping centre requires a multi-step process, including security access sign-ins, and sometimes even induction. While complex cable designs may extend the time needed, our service is committed to ensuring you're always connected reliably.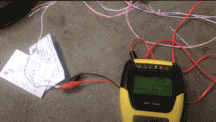 MDF Jumpering For Highrise Buildings
High-rise buildings housing sensitive tenants often have stringent security protocols. This includes submitting safety data, work method statements, SWMS, and undergoing site inductions and background checks. If you're in such a building, please consult with security first.
Things To Consider Before Starting with MDF Jumpering
At SECURE A COM, we offer two tailored packages for residential and commercial MDF Jumpering services in Sydney. Our pricing is designed for smooth, hiccup-free connections, enabling us to maintain competitive rates. However, to avoid any additional charges arising from unforeseen issues, we recommend a few preparatory steps. Before we arrive to carry out your service, please listen to the service video at the top of this page and read through the list of potential obstacles below. Being well-prepared can help ensure the process goes as smoothly as possible, saving both time and money.
NBN Cable Details
The pivotal step before scheduling our cable connection service is to obtain cable details for the NBN connection from your ISP. Without this essential information, we cannot proceed with the setup. Make sure you have contacted your ISP and have this information on hand before we arrive, so we can connect you to the NBN hassle-free.
We Have Most Master Keys
We possess master keys for 97% of Australia's MDFs. However, if your building has particularly tight security, it's advisable to secure a key and possibly complete the necessary paperwork for access to the communications room prior to our cable connection service visit.
MDF Location
If you're in a large building, we strongly recommend consulting your building manager before scheduling our cable connection service visit. This proactive step ensures efficient, quick access to the MDF room, ultimately helping you to avoid any potential extra charges for delays.
MDF Access
If your building employs a unique security lock, rather than a standard NMB or Abloy key, it's crucial to arrange for key access prior to our cable connection service visit. This preparation helps you avoid incurring any additional charges due to delays.
Building Security
For high-rise buildings, obtaining security clearance is often a critical step before scheduling our cable connection service. We recommend contacting your building's security to arrange this, sometimes as much as a week in advance, to ensure a smooth process.
Building Inductions
For certain locations, a site induction along with the submission of SWMS and additional safety data may be prerequisites for access. It's essential to verify these specific requirements before arranging a visit from our cable connection service to ensure a seamless experience.
IDF Consideration
In some scenarios, your cable will run straight to the Main Distribution Frame (MDF). In other buildings, it may go through an Intermediate Distribution Frame (IDF). Whether your setup is straightforward or involves multiple IDFs, rest assured we have you covered.
Cabling Faults
Sometimes after MDF Jumpering, connectivity issues may still arise. These could be due to faulty cabling or sockets in your building, or perhaps a network issue. If this happens, you can opt for our technician to stay and fix the fault within your building. Additionally, if it's a network-related issue, we can liaise with your ISP and provide them with a detailed report to expedite resolution.
Parking
In busy areas like the CBD, parking can be a concern. If you have onsite parking, please arrange this for our technician prior to our MDF Jumpering service to avoid additional parking charges.
Book Your Service
For most residential locations, our MDF Jumpering service is quick and straightforward. However, in large complexes, high-rise buildings, or shopping centres, additional considerations may apply. If you're ready, book now for a hassle-free experience.
MDF JUMPERING SERVICE CALL
What's Covered In Our Service Call?
Choosing the right technician service is vital for a smooth NBN connection, particularly in buildings with complex cabling systems. At SECURE A COM, we offer more than basic MDF Jumpering. Our expertise encompasses the complexities of MDFs, IDFs, and tie cabling that may link to other MDFs in the same facility. This ensures an efficient and smooth connection process, even if your cabling isn't straightforward.
Unlike some services that simply run jumper cables, we're equipped to handle both basic and complex cabling designs. If you encounter an existing fault or have a non-standard cabling setup, you can rely on us to resolve the issue effectively. We pride ourselves on delivering a seamless, comprehensive service. If you're ready for a hassle-free NBN connection, book your service with us now. We'll get you connected.
Expert Technician Labour
This package offers a 1-hour on-site visit for commercial clients and a 30-minute visit for residential customers from our skilled technician. If all preparations are made in advance, your connection will typically be completed within these timeframes.
Basic Materials
This package includes the jumper wire essential for making the connection. However, it does not cover the costs of new sockets or additional cabling should faults be detected.
The Price
The costs for these service calls are below. If you're ready to connect to the NBN today, go ahead and book your service now. For full details, see our terms of service.
Licenced, Insured, Trained and
Trusted Tech Service
We pride ourselves on being a team of fully qualified and insured professionals, committed to delivering high-quality service. Our extensive training sets us apart in a field where varying levels of expertise exist. Our skilled internet technicians are not just experienced but also hold open cabling registrations, ensuring that we operate in full compliance with industry rules and regulations. We're backed by $20 million in public liability insurance, offering you peace of mind. In the unlikely event that something goes awry, rest assured, you're covered.
Our technicians are required to undergo both customer's private cabling training and network training. This dual expertise ensures you receive the most comprehensive and best service possible.
Before setting foot in your home, all our internet technicians have successfully cleared police background checks, ensuring your safety and peace of mind.
We do more than merely MDF Jumpering in Sydney. We provide a range of services to ensure you stay connected in our digital society. Check out some of the other services we provide.
For MDF Jumpering Services
If You Have Any Questions Get In Touch
Visit our contact form to leave us a message if you have any questions about our MDF Jumpering service.