lead in cable installation
Get Your NBN Lead In Cable Installed In Sydney
Are you encountering difficulties while trying to get your NBN lead-in cable installed? At SECURE A COM, we've earned a reputation for making this complex task simple. We offer comprehensive Lead In Cable Installation services that guide you every step of the way. Whether it's trenching for underground cabling or installing aerial lead-in cables from the poles, we make the process seamless and painless.
Prepare Your LIC: Your Responsibility
Jason did an amazing job troubleshooting my home internet, efficient and professional. If you're having any internet issues, then I highly recommend
Fantastic Service. Quick and easy job well done
Tamara Livingstone
31 May 2023
Amazing experience with Jason. Honest and reliable couldn't have asked for a better person to come out and help us. Highly recommend. Thanks again Jason and the team at secure a com .
Tom Hargreaves
12 March 2023
Punctual, considerate, and thorough in identifying problems in my existing home networks and providing solutions.
Guy Ingleby
21 February 2023
Great service by Jason. Up and running and he was prompt and on time. Thanks Secure A Com.
Benjamin Johns
21 February 2023
Perfect service! Jason was very professional and efficient. Would highly recommend their company for your electrical needs.
Luci Torres
5 January 2023
The man from Secure a com was friendly and efficient. The job was to extend the lead in cord for the NBN box so that it could go to the upstairs flat. He was on time and very proffesional and making the appointment was easy. Securacom came out the next day after I phoned them so no wait time. Excellent service.
Residential & Business Installation
We provide Lead In Cable Installation for residential and business clients across Sydney, making the complex process straightforward and reliable.
Residential NBN Lead In Cable Installs
For residential clients, we handle everything from trenching to installing internal cabling and sockets in your desired locations, ensuring a seamless and reliable setup.
Commercial NBN Lead In Cable Installs
For commercial installations, we can install multipair cables to connect multiple buildings or link various floors through IDFs, ensuring seamless and integrated networking.
Understanding Lead In Cable Installation
When it comes to connecting your home or business to the National Broadband Network (NBN), one crucial aspect that often gets overlooked is the Lead In Cable Installation. This is the process of laying the cable from the NBN boundary to your building's entry point. It's a critical step that ensures you get the high-speed internet you're paying for. If you'll indulge me, I'll now break down the key elements you need to know, including trenching requirements and safety measures.
What is Lead In Cable Installation?
Lead In Cable Installation is the laying of a cable that connects the NBN's network to your premises. This cable runs through a trench, which must be dug according to specific requirements. The installation process is vital for ensuring that you have a reliable and high-speed internet connection.
Why is it Important?
Reliable Connection: A poorly installed lead-in cable can result in slow internet speeds and frequent disconnections.
Safety: Incorrectly dug trenches can be hazardous and may damage other underground services.
Compliance: Following NBN's guidelines ensures that the installation is up to code, avoiding potential legal issues.
Key Trenching Requirements
According to NBN's guidelines, there are specific requirements for how the trench should be dug:
Depth: The minimum depth of cover for the conduits is normally 300 mm or 450 mm if the conduit runs parallel with the property boundary.
Direction: The trenching route should be as direct as possible, avoiding sharp changes in direction.
Location: The trench must be within your property boundary and should be near the Electricity Switchboard or Meter Panel for earthing or lightning protection.
Who Should Be Concerned?
Property Developers: Need to ensure that the trench is constructed according to NBN guidelines.
Builders: Must follow safety and depth requirements.
Homeowners: Should be aware of the process to ensure it's done correctly.
Lead In Cable Repair
Sometimes, despite best efforts, cables can get damaged. In such cases, Lead In Cable Repair becomes necessary. It's crucial to hire professionals who are familiar with NBN's guidelines to ensure the repair is done correctly and safely.
Lead In Cable Location Service
At SECURE A COM, we specialise in "Lead In cable location," ensuring you're NBN-ready. Tired of contractors claiming you don't have a lead-in cable without proper inspection? We meticulously search under your house and in the ceiling to locate it. Trust us; if it's there, we'll find it.
NBN Technology and your cable
The Different Types of NBN Lead In Cables
Different NBN technologies require specific types of lead-in cables. For FTTC and FTTN, 2-pair copper cables are commonly used. FTTB and FTTP installations generally utilise fibre-optic cables, while HFC setups require Coaxial RG6 quad shield cables. Each cable type comes with its own set of benefits and challenges.
For example, fibre offers high-speed data transfer but may require specialised installation. Copper is easy to install but might suffer from signal degradation. Coaxial RG6 is robust but limited in terms of bandwidth.
In most cases, around 70% of the time, you won't need to install the lead-in cable yourself. However, exceptions exist, such as steel private poles for aerial installations, due to OH&S issues for NBN contractors.
Your primary role is to get the trenching and conduit work done accurately, ensuring a drawstring is in place. This preparation is vital for facilitating a smooth process when NBN contractors arrive to connect your premises to the network. Large installations like sports grounds may also necessitate custom work. Sometimes, the average person may encounter challenges too. Whatever the situation, we're here to provide expert assistance.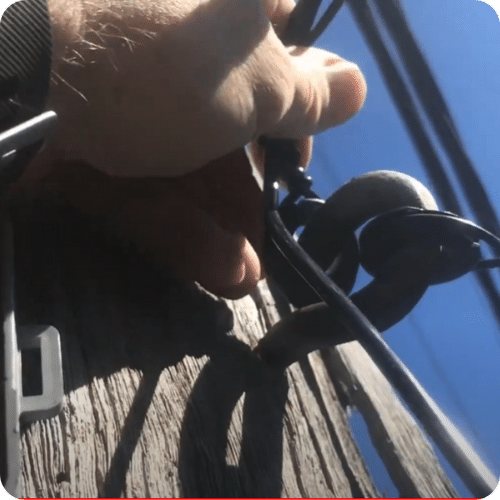 The Different Kinds Of Lead In Cable Installations?
Aerial Lead In Cable Installation
If your ISP has informed you that you require a Lead In Cable Installation, look no further than SECURE A COM. As Sydney's trusted technicians, we specialise in aerial installations. Unlike NBN contractors who won't climb steel private poles, our team is trained and equipped to do just that. With years of industry experience, we ensure that your lead-in cabling is installed efficiently and securely, offering you a hassle-free internet connection. Choose us for reliable and expert solutions tailored to your needs.
Usage: If NBN Contractors won't climb your steal private pole.
Underground Lead In Cable Installation
For a complete underground Lead In Cable installation. We handle everything—trenching, conduiting, and drawstring. If NBN contractors won't install your cabling, we will. We also provide new internal cabling and sockets to ensure a seamless internet connection.
Lead In Cable Upgrade
If your cabling is outdated, consider a Lead In Cable Upgrade from SECURE A COM. We offer upgrades for both aerial and underground systems, ensuring your network operates at peak performance. Don't let old cabling hinder your connection; choose us for a seamless upgrade.
Lead In Cable Relocation
For those needing to shift their aerial cabling, our Lead In Cable Relocation service is the solution. SECURE A COM can expertly move your aerial lead-in cable to a different area at the front of your house, ensuring continued high-performance connectivity.
Lead In Cable From Overhead to Underground

If overhead cables are an eyesore or in the way of renovations, consider our Lead In Cable Diversion service. SECURE A COM expertly diverts your aerial lead-in cables underground, blending aesthetics with functionality. 
Lead In Disconnect and Reconnect Services

If you're planning excavation work or a complete rebuild, consider our Lead In Cable Disconnect service. To prevent damage to the network, it's crucial to disconnect your services properly. SECURE A COM offers this vital service, along with a reconnection option when needed, ensuring network integrity.
In Sydney, we offer a comprehensive Lead In Cable Repair service ideal for various scenarios. Whether your dog has chewed through the cable or you're a tradesperson who's accidentally severed an NBN lead-in, causing your customer's internet to go down, we've got you covered. With cost-effective and expert solutions, we ensure your services are swiftly and correctly restored. Trust us to tackle your cabling issues and get everything back up and running efficiently..
Lead In Cable Repair Service

Damage your lead-in cable and stuck without internet? Our expert team swiftly identifies the issue and provides reliable solutions, getting you back online in no time. Trust us for top-notch service and quick resolutions. Let our lead-in cable repair service help you.
Lead In Cable Onsite Inspection
What's Covered In Our On-Site Visit?
Before quoting a price for your Lead In cable installation, we require either an onsite visit or specific information from you. This includes exact measurements, heights, a Dial Before You Dig plan, photos, video of the area, and a cable installation diagram with measurements. If you prefer a DIY approach, simply call our office and upload all your files in a zip folder using the button at the top of this page. Alternatively, our "Lead In cable inspection" service can gather all the information needed to provide you with a cost-effective quote.
Expert Technician Labour
This package includes a 30-minute onsite visit from our trusty technician. We can gather all the information we require to start the process. 
Dial Before You Digs
This entails providing your address to receive plans detailing all service locations on your property. This allows us to evaluate the cable path and identify any potential conflicts with existing services
The Quote
This price also includes the preparation of your quote. 
The Price
The cost for this service call is $185 + GST. If you're prepared to get your lead-in cable inspection done, go ahead and book now. For full details, see our terms of service.
Licenced, Insured, Trained and
Trusted Tech Service
We pride ourselves on being a team of fully qualified and insured professionals, committed to delivering high-quality service. Our extensive training sets us apart in a field where varying levels of expertise exist. Our skilled internet technicians are not just experienced but also hold open cabling registrations, ensuring that we operate in full compliance with industry rules and regulations. We're backed by $20 million in public liability insurance, offering you peace of mind. In the unlikely event that something goes awry, rest assured, you're covered.
Our technicians are required to undergo both customer's private cabling training and network training. This dual expertise ensures you receive the most comprehensive and best service possible.
Before setting foot in your home, all our internet technicians have successfully cleared police background checks, ensuring your safety and peace of mind.
We do more than merely Install NBN Sockets. We provide a range of services to ensure you stay connected in our digital society. Check out some of the other services we provide.
For Lead In Cable Installation
If You Have Any Questions Get In Touch
Visit our contact form to leave us a message if you have any questions about our lead in cable installation service.