Resolving a Misdiagnosed NBN Connection Issue in Kogarah
In the world of telecommunications, accuracy, expertise, and customer service are paramount. This case study illustrates how the SECURE A COM technician intervened to resolve an issue for an NBN Fibre to the Node customer in Kogarah, where two previous NBN technicians had failed.
The Problem
A customer in Kogarah, using Aussie Broadband, faced persistent issues with their NBN Fibre to the Node connection. Two NBN technicians had previously visited the site, spending hours without resolving the problem. Both technicians claimed that there was no connection to the MDF (Main Distribution Frame), leaving the customer frustrated and without service.
The Process
Initial Assessment
Upon arrival, the SECURE A COM technician quickly assessed the situation, understanding the customer's frustration with the previous technicians' lack of results and unprofessional behaviour.
Investigation and Discovery
The SECURE A COM technician promptly connected an F set to the line, discovering that there was indeed a tone getting to the MDF frame. Contrary to the previous technicians' claims, the issue was not an open circuit but rather a misdiagnosis of the problem.
The Solution
Identification and Reconnection
The SECURE A COM technician found the correct connection at the frame, a task that two previous technicians had failed to accomplish. The issue was resolved quickly, with the technician even labelling the connection to make it "child-proof" for future reference.
Advocacy and Accountability
The technician created a video report, calling for Aussie Broadband to refund the customer for the unnecessary expenses incurred due to the previous technicians' incompetence. This act of advocacy demonstrated SECURE A COM's commitment to quality service and integrity.
Conclusion
This case study emphasises the importance of expertise, diligence, and customer care in the telecommunications industry. The SECURE A COM technician's ability to quickly diagnose and resolve the issue stands in stark contrast to the previous technicians' failures, highlighting the value of professional service.
About SECURE A COM
SECURE A COM offers a range of services to help with internet faults, including bridge taps, NBN service issues, cabling, and socket installations. If you're in need of internet help, You can book a service through our website.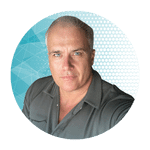 Jason Kearney
Head Internet Technician
Jason Kearney is the Head Technician at SECURE A COM, with qualifications spanning NBN, ADSL, phone, and data cabling. Starting as an electrician, Jason quickly delved into the telecommunications sector, leading crucial projects like the rehabilitation of the Telstra network. With credentials in both managerial and technical aspects, he now specialises in phone line and NBN fault location and repair, serving both homes and businesses with effective and personalised telecommunications solutions