Unravelling Complex NBN Issues for Optus Customers
The following case study elucidates an intricate situation where an Optus customer, relying on fibre to the premises (FTTP), experienced persistent issues with their NBN service. This deep dive into the investigative and troubleshooting process carried out by SECURE A COM – the leading NBN fault-finding service in Sydney – offers insights into the complexities of modern-day telecommunication solutions.
The Customer's Dilemma
Issues at a Glance
Location: Sutherland.  A duplex with no NBN at adjacent premises.
Customer Complaints: Extensive fluctuations in speed, possible internal cabling issues, constant dropouts, variations in ping, and inconsistent performance of two separate Optus routers.
The Problem Unfolds
Upon investigating, the SECURE A COM technician discovered that the customer had been experiencing the following specific problems:
Speed Fluctuations: Considerable changes in speed, even within an hour.
Router Issues: Two separate routers from Optus were tried, both resulting in fluctuating speeds.
Internal Cabling Check: Initial suspicion was on internal cabling, which was tested and found to be in perfect condition.
Recorded Observations
The customer, desperate to find a solution, kept detailed notes of the issues, including:
Dropouts: Multiple occurrences within short periods.
Speed Fluctuations: Dramatic differences in speed, even when connected directly via Ethernet.
The Investigation
Phase 1: Identifying Internal Cabling Status
Cable Tester Used: Ethernet size 845 data cable tester.
Internal Cable Test: No issues found with internal cabling; all tests passed, with no open shorts, crosses, or splits.
Customer Equipment: Two separate Optus routers tested, both showing the same issues.
Phase 2: Speed Testing and Monitoring
Connection Type: FTTP with a 50/20 plan.
Test Results:

Directly from FTTP box: 59.72 Mbps download and 17.81 Mbps upload.
Through the router: Similar to the direct connection.
From the living room (permanent setup): Consistent with previous tests.
Phase 3: Continuous Monitoring
Tool Used: Ping Plotter to monitor variations in pinging out to Google.
Findings: Variations in millisecond response times and intermittent drops.
Conclusion: A Network Challenge
All the internal checks, including internal cabling, router, and connection from various points, revealed that the problem was not on the customer's side. It appears to be an intermittent fault on the network itself. The detailed observations and thorough checks helped in eliminating common problems, narrowing down to an underlying network issue.
Why Choose SECURE A COM for Your NBN Service Issues?
At SECURE A COM, we pride ourselves on being Sydney's number one choice for anyone having issues with their NBN service. Our commitment to quality, backed by over 114 5-star reviews, highlights our deep expertise and customer-centric approach.
Don't let NBN issues disrupt your daily life. Reach out to us today, and let our experts identify and resolve the underlying problems swiftly and efficiently. You can contact us at 02 9188 1577 or book our service online.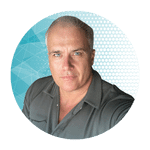 Jason Kearney
Head Internet Technician
Jason Kearney is the Head Technician at SECURE A COM, with qualifications spanning NBN, ADSL, phone, and data cabling. Starting as an electrician, Jason quickly delved into the telecommunications sector, leading crucial projects like the rehabilitation of the Telstra network. With credentials in both managerial and technical aspects, he now specialises in phone line and NBN fault location and repair, serving both homes and businesses with effective and personalised telecommunications solutions