Are you embarking on an Australian adventure in your motorhome, RV, or caravan? Australia is an unparalleled destination for such journeys, and the good news is that you can remain connected while you explore its natural beauty.
Imagine sharing awe-inspiring vistas on social media, texting your family to update them on your location, or streaming your favourite shows as you relax in a serene camping spot. Whether it's for leisure or necessities like online banking and destination research, staying connected is crucial.
Wondering how to maintain internet access without individual SIM cards in your devices? Look no further; we offer robust solutions for Wi-Fi in caravans. We have years of experience installing mobile 3G/4G routers equipped with SIM cards to ensure you have Wi-Fi wherever your travels take you—provided there's a 3G or 4G network available.
Benefits of Opting for a Mobile Wi-Fi Router in Your Caravan
Cost-Effectiveness: One data plan can be shared amongst everyone, eliminating the need for multiple plans.
Enhanced Security: Your own Wi-Fi network is generally more secure than the public Wi-Fi offered at caravan parks.
Optimal Coverage: Utilising a Telstra SIM for your caravan Wi-Fi gives you the advantage of the best network coverage, particularly in rural areas. While Telstra plans might be a bit pricier, their reach in remote locations outweighs the cost.
Enjoy your caravan adventure with uninterrupted connectivity!
Here are a few tips on using your LTE mobile router while travelling on the road.
You should also set up the speed limits on all your connected devices so they can get the best speed possible while roaming from one tower to another. (This is an advanced option)
A simple method that I use for any traveller who wants to have internet access but also doesn't want to be tied into contracts with Telstra or Optus or anyone else, just buy yourself a pre-paid SIM card and then put it into a device then you only need to pay for data while you are travelling in your caravan.
The Netgear Nighthawk M2 has 2 x Antenna slots if you do happen to buy this unit, which I 100% recommend, then getting the 2 aerials for this unit will extend the strength of your signal. If you want to buy the aerials too you can click here to see more.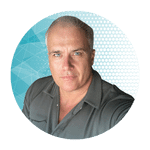 Jason Kearney
Head Internet Technician
Jason Kearney is the Head Technician at SECURE A COM, with qualifications spanning NBN, ADSL, phone, and data cabling. Starting as an electrician, Jason quickly delved into the telecommunications sector, leading crucial projects like the rehabilitation of the Telstra network. With credentials in both managerial and technical aspects, he now specialises in phone line and NBN fault location and repair, serving both homes and businesses with effective and personalised telecommunications solutions